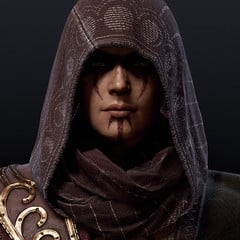 Stephanie Chafe
Character Artist @ Ubisoft Québec
Quebec, Canada
Summary
*Please check my LinkedIn for a more in-depth list of my skills and experience*
After graduating with a bachelor's degree in 3D from École NAD in Montréal, I began working at Ubisoft Quebec on Assassin's Creed Syndicate as a character modeler, where I further developed my skills in 3D realism, 2D texturing, general game production and other fields.
I have always thrived in creative environments, and greatly enjoy working in teams. I adapt quickly to new techniques and challenges, and am always eager to learn something new. Video games have always been a passion of mine, and I look forward to the next game experience that I can contribute to!
Skills
Anatomy
Drawing
Digital Sculpting
Texturing
3D Modeling
Prop Modeling
Concept Art
Digital Painting
Software proficiency
Experience
Character Artist at Ubisoft Quebec

Quebec City, Canada

Worked on Assassin's Creed: Syndicate. I create hi-res sculpts of faces, beasts and clothing (with cloth simulation by Marvelous Designer), texture them, and integrate them in engine.

Character Artist Intern (Academia Summer School) at Ubisoft Montreal

Montreal, Canada

Was Lead Artist and Character Artist, overseeing the management and delegation of tasks in the art team as well as creating the playable characters for the game. Also helped created textures for the environment whenever needed.